Three-day Workshop on Research Methodology organized by the Engineering Research Unit, University of Moratuwa. This workshop is designed to impart knowledge of research design, research methodology, research tools, scientific writing and publication in postgraduate students of the university.
ERU believes that this workshop would help elevate the standards of the research and publications of the faculty of engineering.
Objective (s) of the Workshop
Giving the basic knowledge on how to conceive a sound research Proposal.
Educate participants on research design and methodology.
Develop basic skills in using mathematical and statistical tools in engineering research and develop basic skills in data processing, analysis, presentation and interpretation of results.
Develop basic skills in scientific writing and preparation of research report.
Educate participants on how and where to publish research findings.
The workshop programme includes;
Developing a research idea and how to write a good research proposal, literature review
Research methodology – How to approach a research problem (modeling, simulation, algorithm development, etc)
Referencing
Mathematical tools used in engineering research – Introduction to Mathematica, Matlab and Maple with hands-on training
Statistical Modelling and Designing Experiments in Research – Use of SPSS, Data Analysis, and Interpretation of Results
How and where to publish your research findings
Presenting your research
LaTeX installation and Basic training
Plagiarism and Turn-it-in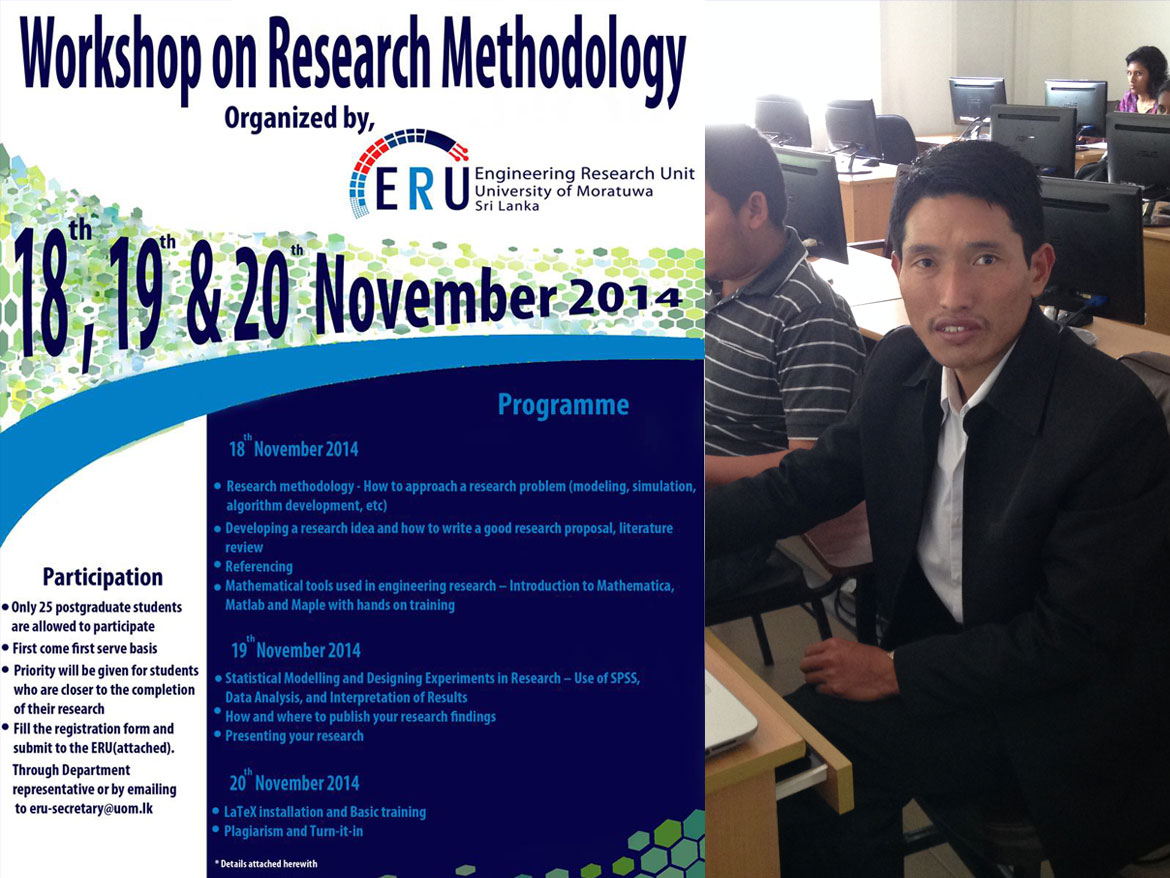 ---
---
---
---
---
---
---
---
---
---
---
---
---
---
---
---
---
---
---
---
---
---
---
---
---
---
---
---
---
---
---
---
---
---
---
---
---
---
---
---
---
---
---
---
---
---
---
---
---
---
---
---
---
---
---
---
---
---
---
---
---
---
---
---
---
---
---
---
---
---
---
---
---
---
---
---
---
---
---
---
---
---
---
---
---
---
---
---
---
---
---
---
---
---
---
---
---
---
---
---
---