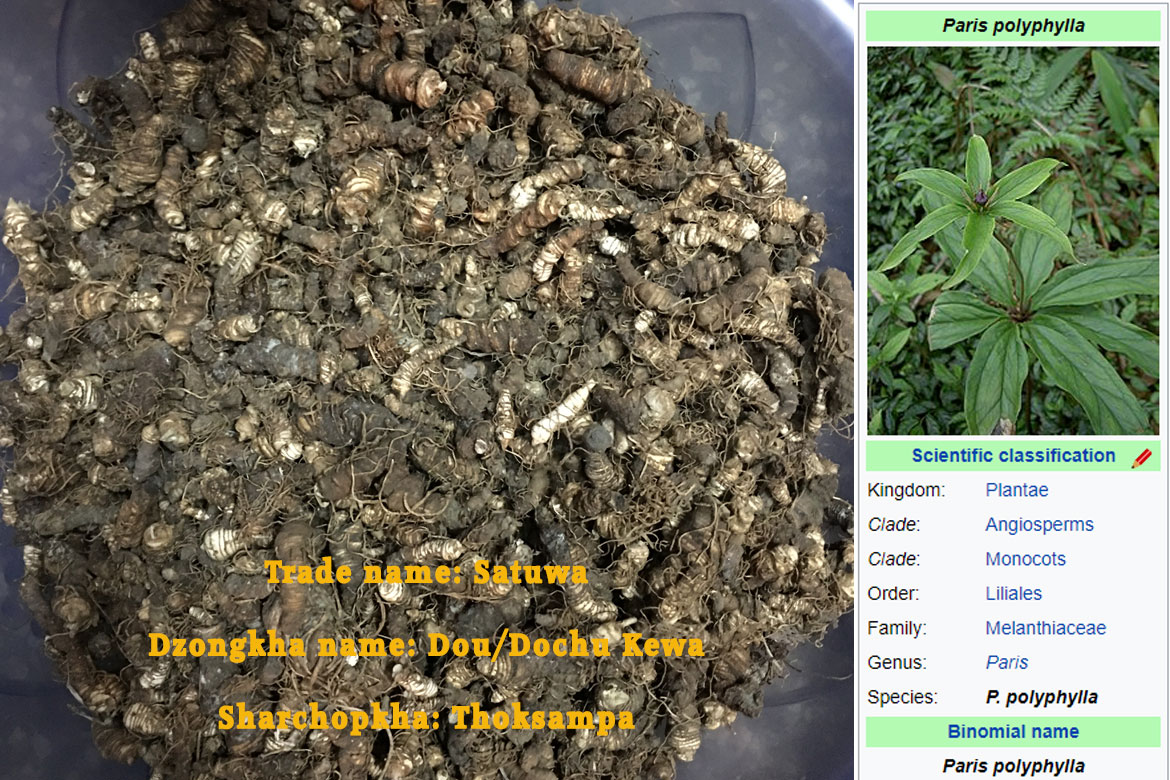 The Natural Resource and Environment Committee and National Council members convened a consultation meeting with the Ministry of Agriculture and Forests on 12th September and Legal status of Paris Polyphylla was one of the issues discussed amongst others. In this article, I will briefly share the summary of the comprehensive presentations made by MoAF officials pertaining to the legal status and the way forward.
What is Paris Polyphylla?
Paris polyphylla is an Asian species of plants native to China, Taiwan, the Indian Subcontinent, and Indochina. It produces spider-like flowers that throw out long, thread-like, yellowish green petals throughout most of the warm summer months and into the autumn. In the fall, the flowers are followed by small, scarlet berries. It is a perennial, which slowly spreads, and survives in leafy, moist soil in either complete or partial shade. This flowering plant usually grows up to 90 cm (3 ft) high and spreads out about 30 cm (1 ft) wide. Its leaves grow in a single whorl below a flower growing in two whorls.
In Bhutan, it grows at an altitude up to 3300 meters and grows well in moist and humus-rich soil, under the forest canopy of full shade-partial shade. Rhizome is made up of modified stems of plants that usually grow underground, contains roots, and shoots from their nodes, and it grows in a creeping manner. Paris Polyphylla is known as Dou Sethochem or Dochu Kewa in Dzongkha, Thoksampa in sharchop kha and Satuwa in lhotsham kha.
The Paris polyphylla collection has been legalized with collection permit issued by the Ministry of Agriculture and Forests based on the Forest & Nature Conservation Act 1995. The collection can be done through management groups or individual basis as interim measure instructed by MoAF.
Rhizomes are allowed for collection from October to November after the fruits are fully ripened. Flowers during April & May and the collection of a plant during these months would seriously affect the sustainability of it in the wild.
With the legalization of the collection of the Paris Polyphylla, MoAF encountered some constraints such as the formation of the management group is not possible as it grows sporadically over a large area, Illegal collection by outsiders makes the resources unsustainable, Untimely collection of rhizome (before maturity) in this manner is likely to pose threat to its sustainability in the wild and It takes about 6 years to fully mature rhizome (3 layers of branch whorl).
The forest department issued an office order that anyone found collecting the roots of the plants without a permit or outside the harvesting season would be penalized.
Fines & compensation are as per the Forest and Nature Conservation Rules and Regulations 2017, Section 417- the commercial taking of restricted non-wood forest products. A fine minimum of Nu 5,000 with possible extension up to Nu 50,000 depending on the degree of offense and compensation at a fair market value of the forest produce involved will be imposed. The market value was fixed at Nu 3,000 a kilogram for dry and Nu 1,000 a kilogram for fresh roots. The fines and penalties were standardized for illegal collection to discourage illegal practices.
As part of the long-term sustainable harvest, the MoAF has started domestication Trial at Bjemina – where plants growing well but rhizome formation has not taken place and Deptsang, Shingkharlauri – nursery sells plants and plantation doing well. They have also done the upscaling of domestication and enterprise set up for product development and diversification.
Paris Polyphylla has been used in Traditional Chinese Medicines for years. The plant can be used as a pain reliever, antiphlogistic (removing heat), antispasmodic, diphtheria, for fever, headache, wounds, and burns, among others.
There are few field Manual or Guidelines for the sustainable production and management, guidance and instructions for nursery development, cultivation and domestication of Paris polyphylla such as Guidelines for resource assessment and management of Dou (2012) and A field manual on Nursery management and cultivation of Dou (2012).