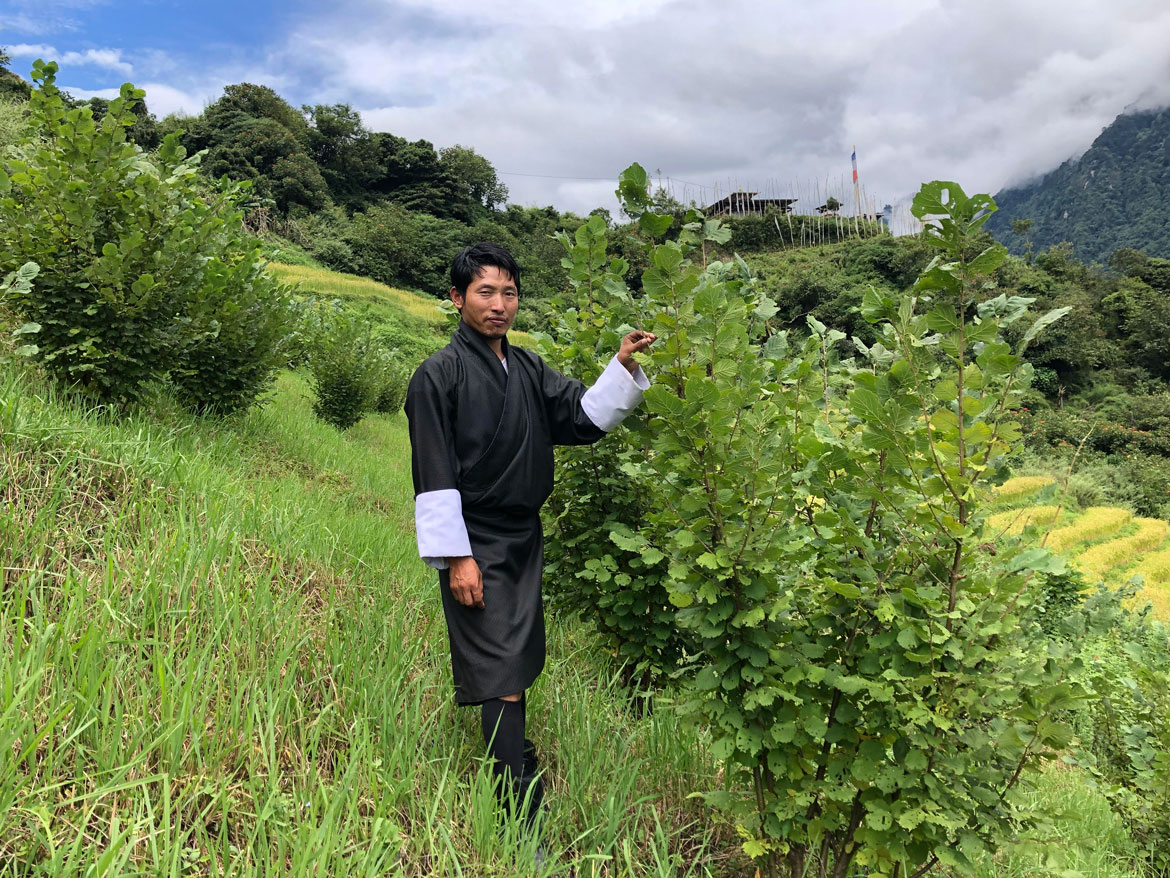 Mountain Hazelnut Venture Private Limited (MH) is a Public-Private-Company-Partnership (PPCP) and Bhutan's first 100% FDI Company. In an MoU with the Royal Government of Bhutan, both parties committed to enabling MH to plant 10 million hazelnut trees on the fallow and degraded land. MH creates long-term partnerships with farming households and community groups through which MH supplies hazelnut trees and technical support at no charge and guarantees to buy back the nuts upon harvest. MH then processes and exports the hazelnuts to international markets to optimise pricing and generate foreign exchange.
While MH is a for-profit company, its social objectives include significantly increasing household income for tens of thousands of farming households and community groups in rural farming communities and long-term direct and indirect employment for thousands more Bhutanese. MH currently employs approximately 800 nationals and besides, provides income for more than 1,200 people who provide goods and services to the Company.
To date, MH has planted over six million hazelnut trees in fallow orchards in 18 Dzongkhags across Bhutan. The Company serves over 11,000 farming households and community groups through MH's field team over 200 highly trained hazelnut experts.
Mountain Hazelnuts Company has partnered with over 40 households in Gasa Dzongkhag, to plant hazelnuts on approximately 30 acres in the Khatoed and Khamed Gewog.
I, being an elected representative of Gasa, am very enthusiastic about supporting this beautiful project and looking forward to helping my constituency by providing an alternative cash crop option to promote sustainable development in Bhutan.
The success of this project will significantly contribute to the growth of Good to Great Gasa initiatives whereby rural communities in Gasa can generate reliable income and improve their livelihoods. Besides the revenue from the collection of medicinal herbs and growing organic vegetables, a secure income from hazelnuts will have positive spillover effects on education, gender equality, continuity of traditional lifestyles, and rural development.
Visit Mountain Hazelnut' official website (www.mountainhazelnuts.com) to learn more about Mountain Hazelnut.