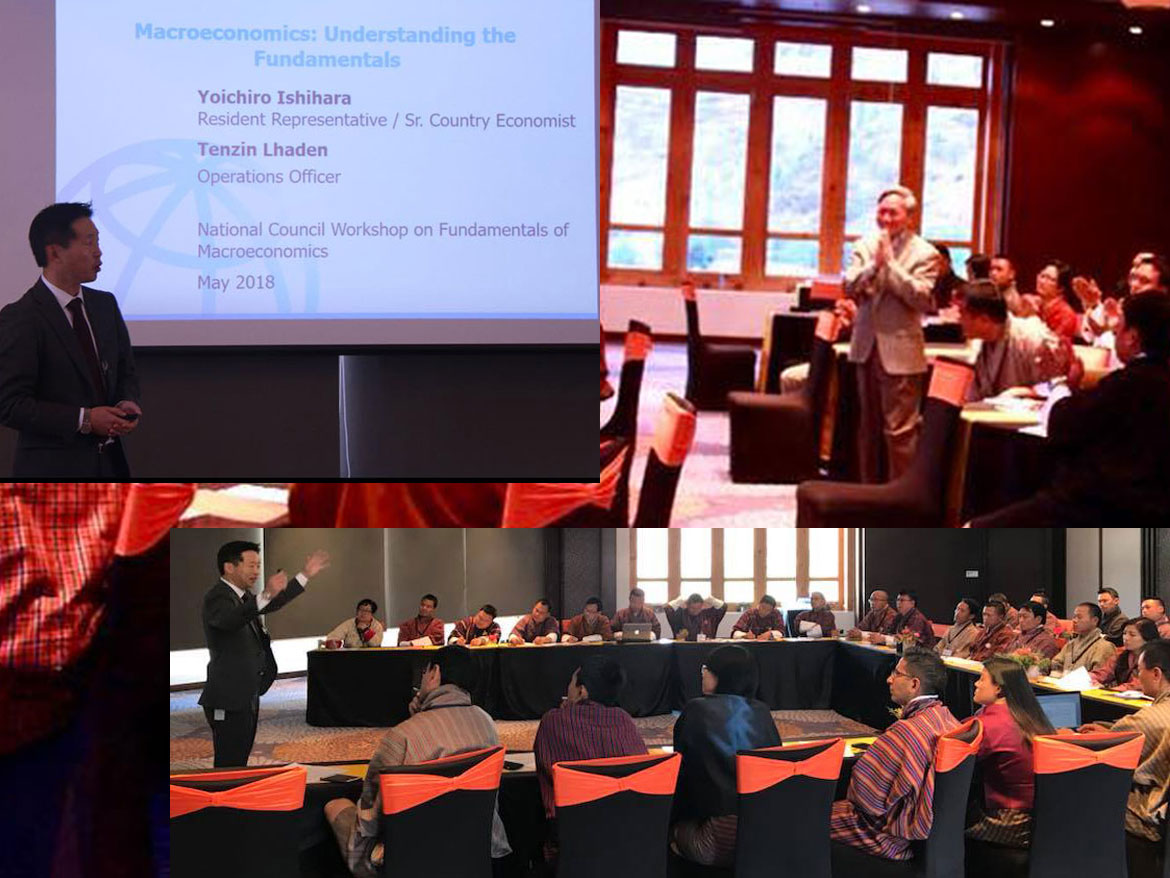 Workshop on the theme "Fundamentals of Macroeconomics and the impact of the Budget" conducted by the World Bank and the Ministry of Finance, Bhutan from 20th to 23rd May.
Dasho Tashi Wangyal commenced the session with three days program agenda and made a brief presentation on the political economy of Bhutan.
Mr. Qimiao Fan, World Bank Country Director for Bhutan addressed the opening session with a brief overview of the economic opportunities and challenges facing Bhutan and also provided valuable perspectives on global economic and technological developments that will impact Bhutan in the forthcoming years. He also highlighted that the hydropower projects as the main source of GDP, low employment as a continuing challenge and role of artificial intelligence (AI) in the future.
The sessions on Fundamentals of Macroeconomics and Economic Policy Analysis were conducted by Mr. Yoichiro Ishihara, Resident Representative & Country Economist and Ms. Tenzin Lhaden, Economist & Operations Officer for Bhutan from the World Bank.
The senior officials from the Ministry of Finance conducted sessions on the Macroeconomic Coordination; National Budget and Public Expenditure Management. They have shared an overview of the national budget and key challenges in budgeting. The officials from Department of Macroeconomic Affairs presented on the Macroeconomic Framework, Principles, Institutional Set Up and figures pertaining to four sectors of the Bhutanese economy. The Department of Public Account also made a brief presentation on the fund releasing process.
---
---
---
---
---
---
---
---
---
---
---
---
---
---
---
---
---
---
---
---
---
---
---
---
---
---
---
---
---
---
---
---
---
---
---
---
---
---
---
---
---
---
---
---
---
---
---
---
---
---
---
---
---
---
---
---
---
---
---
---
---
---
---
---
---
---
---
---
---
---
---
---
---
---
---
---
---
---
---
---
---
---
---
---
---
---
---
---
---
---
---
---
---
---
---
---
---
---
---
---
---