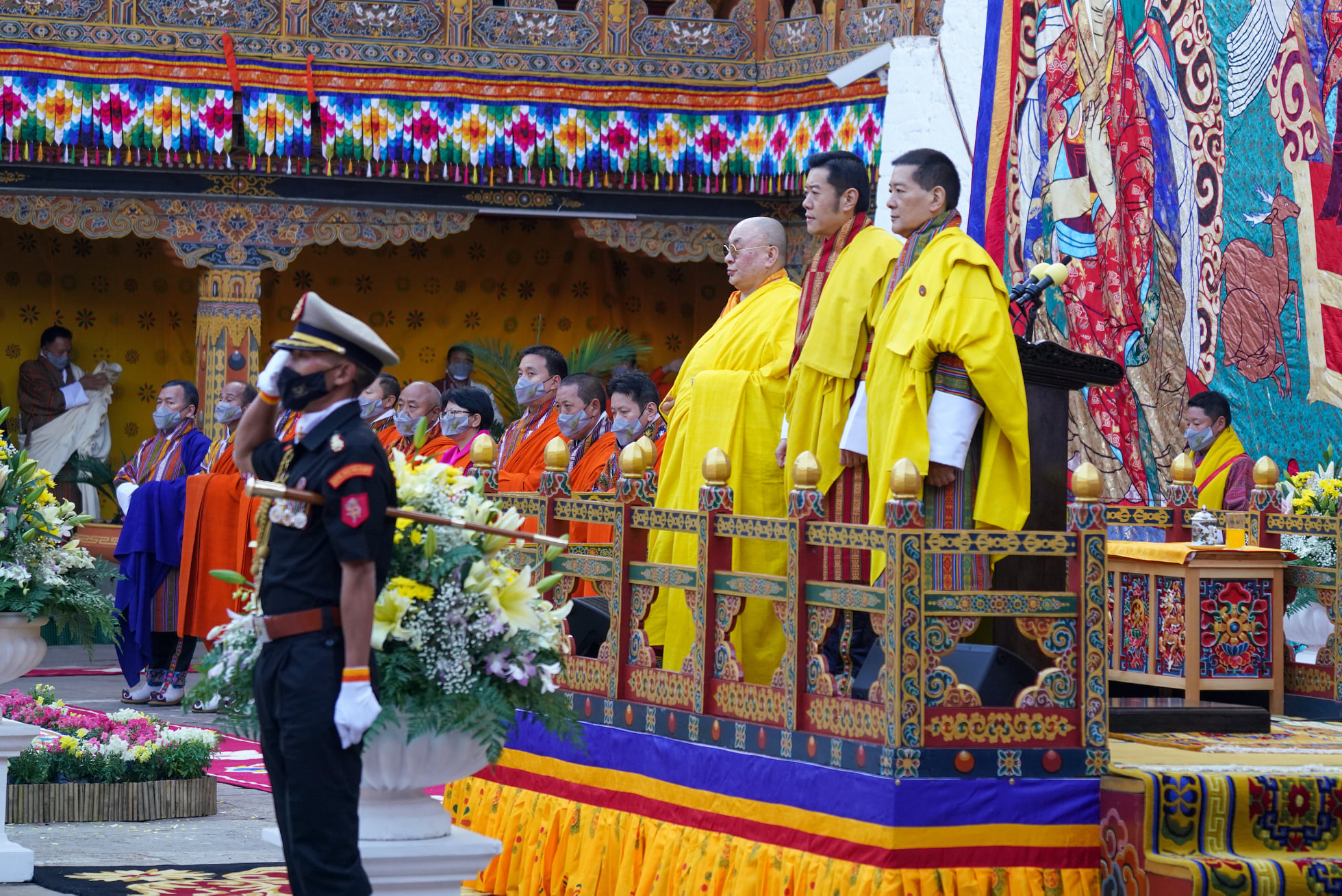 His Majesty The King issued Royal Decree for Civil Service Reform during the 113th National Day celebrations in Punakha (Picture Courtesy: HM's Facebook Page).
Since the establishment of the RCSC in 1981, several reform efforts have been made to improve civil servants' competencies and performances. Nevertheless, the core impediments against developing a more professional and efficient bureaucracy remain entrenched in the system.  Although the civil servant to population ratio is 1:25 as of 2019, inefficient service delivery has become an impediment to our national development and progress. This is evident from the Royal Kasho on Civil Service Reform issued to the RCSC during the 113th National Day Celebration. As His Majesty, the King desired, we must prepare for our future and adapt to the globalized world by capitalizing on being a small nation's strength and opportunities.
Therefore, this study explores how our government could initiate civil service reform to achieve greater efficiency, effectiveness, and responsiveness towards public service delivery.
Why Civil Service Reform?
Recent studies have indicated that governments worldwide continuously aim to improve public service delivery, accountability and transparency to respond to citizens' needs. Even governments with a high standard of public service delivery are under constant pressure to improve continuously (World Bank, 2020). Similarly, Kazakhstan's government has developed a professional public workforce to improve its administrative efficiency and public service quality (OECD, 2018). Likewise, Xiaoqi (2012) highlighted that civil service reforms in China aim to promote administrative efficiency and help policymakers strengthen their control over the civil service to enable China to regulate and manage its increasingly complex economy and society. Moreover, civil service reform in ASEAN member countries concluded that reforming the public sector can narrow the government's gap by creating an efficient and responsive public sector (Kim & Araya, 2012).
Some authors have also suggested that an efficient, transparent, responsive, and accountable public administration is paramount for a nation's proper functioning and the primary means of achieving government strategies (UNDP, 2015). The literature review shows that governments have to reshape public sector leadership to deal with new challenges (OECD, 2001). Furthermore, the research concludes an analysis of 14 countries' experiences to reduce public expenditures, improve policy responsiveness and implementation, improve government as an employer, improve service delivery, and build public and private sector confidence (Manning & Parison, 2003).
Obongo & Wilkins (2014) argued that governments worldwide have reacted to unprecedented economic challenges and rapid political and public expectations changes over the past two decades. This is evident from the OECD's publication that Citizens' rising demands and expectations concerning public services' quality, increase pressure on the public administration to improve its efficiency and responsiveness and be innovative flexible in responding to longer-term issues (OECD, 2010).
Best Practices & Lessons Learnt
Singapore is leading all the ASEAN member countries regarding government effectiveness, control of corruption, and the rule of law. This is because its reform programs mainly target solving specific problems, a high standard of accountability to the government, and political leadership (Kim & Araya, 2012). Moreover, Singapore's civil servants are one of the highest-paid to attract the most highly qualified candidates, encourage their retention, and deter any tendency towards personal corruption (IPPR, 2013). China's experience also follows this in managing and reforming its civil service model for other Asian countries because of the institutionalization of civil service recruitment and competition and merit-based promotions, the instalment of transparency and predictability into the public personnel management system, and government promotion officials' accountability as well as public participation (Xiaoqi, 2012). The experiences of Japan and Kazakhstan offer similar insights (Aoki, 2015; OECD, 2018).
There exists a very extensive literature on this issue and the majority of prior research indicated that the civil service's effective performance depends on merit as the basis of recruitment, selection, pay-scale, performance appraisal and promotion and retention practices. Civil servants need practical training and career development, which would result in better organizational and individual performance. Consequently, successful reforms in these areas can substantially increase public service effectiveness and efficiency (OECD, 2001; Iqbal & Ahmad, 2006; World Bank, 2008; UNDP, 2015b). Therefore, reform initiatives could be prioritized within three main areas: delivery excellence, service-oriented civil servants, and effective and efficient, organizations critical to improving overall public services (World Bank, 2020). In contrast, Repucci (2014) argued that the civil service reform generally includes reforms in remuneration, human resources, downsizing and operational efficiencies.
The research indicated that an essential part of effective and accountable public-sector management is transforming available resources into maximum impact following political priorities (MoFA, Denmark, 2007; Manning & Parison, 2003). There is a need to change the government's role from the regulator to the facilitator to progress the delivery of services to the people (Iqbal & Ahmad, 2006).
Reform Challenges & Way-forward
Although most countries introduced civil service reform programs to improve public service delivery, they have faced challenges such as the need for resources and adequate human capital, lack of willingness to change and weak monitoring processes, and strengthening the communication and understanding of the reform objective and more participation of citizens and civil society (Kim & Araya, 2012).
Thus, the future civil service reform needs to consider developing competency management, investments in its senior civil service system and developing a performance culture to ensure these systems have a real impact in professionalizing the civil service and developing greater efficiency and performance (OECD, 2018).
When designing CSR programs, the main issues commonly faced are training, career Vs. position system, civil service management arrangements, pay and compensation, gender equity and performance management, politicization and patronage (UNDP, 2015). In a series of analyses and reports, the World Bank recognized the enormous challenge of civil-service reform operations, and it has recognized that success has been limited (Shepherd, 2003).
In this regard, Repucci (2014) suggested a broad framework when designing and implementing reforms. The challenges related to the context in which civil service reforms occur and how practitioners can overcome them are the importance of local context, political will and local ownership, weak institutions, systems of patronage, the long‐term nature of reform and sustainable reform. The challenges related to practitioners' processes and procedures when implementing reforms are prioritizing reform, participatory processes, donor coordination, and the debate between comprehensive and incremental reform (Repucci, 2014; Obongo & Wilkins, 2014).
Therefore, Polidano (2001) emphasized that the strategic and tactical choices can determine the success of the design and implementation of civil service reform. Keeping the scope of change narrow, limiting aid donors' role, and reform leadership are crucial factors for successful civil service reform. In summary, successful reform requires focus, the mobilization of resources, incentives, persistence and a strategy that puts reform on the political agenda (OECD, 2005).
Analysis: Local Context
The analysis was carried out based on worldwide governance (service delivery) indicators using the Percentile rank method (Daniel et al., 2010).
Effectiveness of Government captures perceptions of the quality of the civil service or public services. The study finds that the government's effectiveness has a significant positive impact on a country's growth performance and is associated with higher GDP growth rates over time (Han et al., 2014).
The strength of the civil service in Bhutan as of 2019 end was 29,442 (Annual Report, 2019). The civil servant to population ratio is 1:25 as of 2019 compared to 1:40 in 1996. Although the civil service size has almost doubled over the last two decades, the government effectiveness has declined to 64.90% (2019) from 74.86% (1996), with an average of 68.36%. Furthermore, the average GDP growth rate is 7.06%, with the highest growth rate observed in 2007 at 18.36%, mainly due to the commissioning of the Tala Hydropower Project (Figure 1).
The effectiveness of the government has improved in recent years with an average of 68.36% (Figure 2) compared to most countries in the South Asia region. The government's effectiveness is determined by the organizational environment (economic development & education status), organizational characteristics (size and diversity) and political characteristics. Therefore, the government effectiveness measures the perceptions of the quality of the civil service, the quality of public services,  the quality of policy formulation and implementation, and the credibility of the government's commitment to such policies and the degree of its independence from political pressures (Sánchez et al., 2013). Moreover, low productivity of the civil service due to low competency, lack of a proper performance management system, and low motivation affect the government's effectiveness.
The World Bank's report on the ease of doing business, 2019, which compares business regulation for domestic firms in 190 economies, placed Bhutan in the 81st position, down from 75th in 2018. Due to too much reliance on the bureaucratic procedures involved in both the civil service and public organizations. For instance, it takes 61 days to get an electricity connection in Bhutan, whereas it takes only 26 days in Singapore. Similarly, it takes 12 days and 8 procedures to start a business in Bhutan, whereas it takes less than 2 days to start a business in Singapore. Such lengthy processes may discourage FDI due to unnecessary procedures required in business setup and operations.
The Constitution guarantees citizens to select the government and provides avenues to air their opinions (including through free media) on how services are being delivered to them and hold to account those that provide such services. This is only possible when there is transparency in how the government operates. In recent years, accountability in Bhutan has been improving drastically, with a rank of more than 51% (Figure 2) compared to most countries in South Asia region except India.
The system of displaced complacency where the system is protecting bureaucrats more than bureaucrats protecting the system has resulted in the civil servants' failure to adapt to the dynamic nature of development and service requirements over time (Kuensel, 2021). Although Article 26 (1) of the Constitution guarantees the RCSC discharge its public duties in an efficient, transparent and accountable manner, both the CSA 2010 and BCSR 2018 emphasize only the ethics and integrity of civil servants without providing ample legal procedures to fix the accountability (Tshering, 2020). The lack of clear direction on improving accountability has resulted in civil servants violating their ethics and integrity and officials abusing power in service delivery.
Both regionally and globally, the corruption level is perceived to be low in Bhutan, with an average of 81.84% (Figure 2). Recently published National Integrity Assessment 2019 indicates that the experience of corruption in service delivery is minimal, but the perception of corruption in favouritism is prevalent in public service delivery (ACC, 2020). The lack of transparency and e-services; people availing services from the agency are making payments in cash, kind, services or other forms of gratification to public officials.
Since 1907, Bhutan has enjoyed a stable political environment engendered by our successive Kings' dedicated and selfless leadership. With the constant nurturing of democracy, political reforms have been introduced during the last 100 years of Monarchy, the latest being the adoption of the Constitution in 2008. Bhutan's political stability is best among Asia's countries, with an average of 78.79% (Figure 2).
However, the change of government every five years since 2008 also hindered development activities and impacted bureaucratic efficiency due to lack of continued political will and significant changes in policy as per the political ideology.
The RGoB's ability to formulate and implement sound policies and regulations for promoting private sector development is fragile amongst Asia, with an average of 28.16% (Figure 2). The major challenge of private sector development is the lack of access to markets for our goods and services. Our economic dependence on a few sectors and the composition of firms and investments in developing new and existing markets have been less than optimal.
Recommendations:
Based on the study findings, to achieve greater efficiency and effectiveness, and responsiveness towards public service delivery, the following recommendations are proposed.
Enhance the effectiveness of government through rightsizing the civil service, meritocratic approach to civil service employment, applicable performance management system, contemporary and effective HR policies, fair remuneration for civil servants, practical training and career development and strengthening ethical leadership.
Improve public service delivery through transparency, professionalism and accountability.
Strengthen mechanism to address accountability issues and provide clear direction for fixing accountability through stringent legislation and rules.
Reduce corruption by fostering integrity in the system. Strengthening e-services for service delivery can help optimize HR and budget and assure transparency in public service delivery.
Promote private sector development with an accessible market both within and abroad to reduce the burden on the civil service and the demand for civil service jobs through the formulation and implementation of sound policies and regulations. Moreover, change the role of the government of the regulator to the facilitator for effective public service delivery.
Ensure strong political will and local ownership of successful civil service reform to put reform on the political agenda, engage the local government in the process, and help develop the approach for effective implementation of the civil service reform.
NB: The author declares that the material being presented in this paper is the author's original work unless cited. The author reserves the rights of the content, and in the case of republication of the whole, part, or parts thereof needs to be acknowledged.