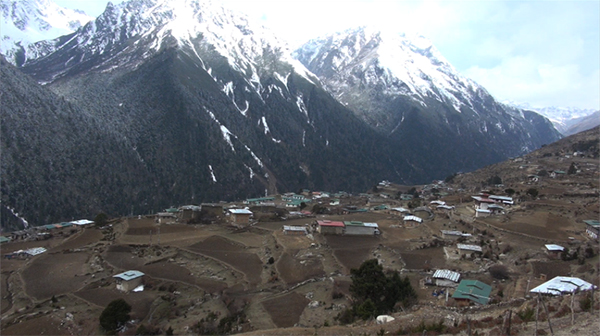 April 30, 2018.
Mobile network made its way into Laya in 2010, five years before electricity did. The highland community is now only months away from getting 3G service.

The service is expected to be introduced by October this year.
Teachers at Laya Lower Secondary School believe access to faster internet will help bring about a sea change in the teaching and learning process.
"It will be beneficial for both the teachers and the students," Phub Gyeltshen, a teacher at Laya Lower Secondary School said.
"It will help the teachers in expanding our knowledge, which will have positive impacts on the quality of education."
Thinley Rabgay, another teacher, echoed the same feelings. "Access to internet in our school would aid teaching and learning process immensely," he said.
"Students can explore on their own to gain a broader understanding of the topics taught in classes. Teachers can do the same, which will help us teach better."
Young people in the village too are looking forward to receiving 3G service. "We will be able to keep track of all new things," Leki Om said.
Bhutan Telecom (BT) is the only mobile service provider in Laya. "We have transferred all the fibre cables to Laya, and after July, we will procure all required equipment and start installation works," BT's Gasa Officer In-Charge Penjor Gyeltshen said.
"Our work will complete before the Royal Highland Festival."
Bhutan Telecom will carry out the works with support from the Department of Information Technology and Telecom.
Sherub Dorji, Laya
Source: BBS 
---
---
---
---
---
---
---
---
---
---
---
---
---