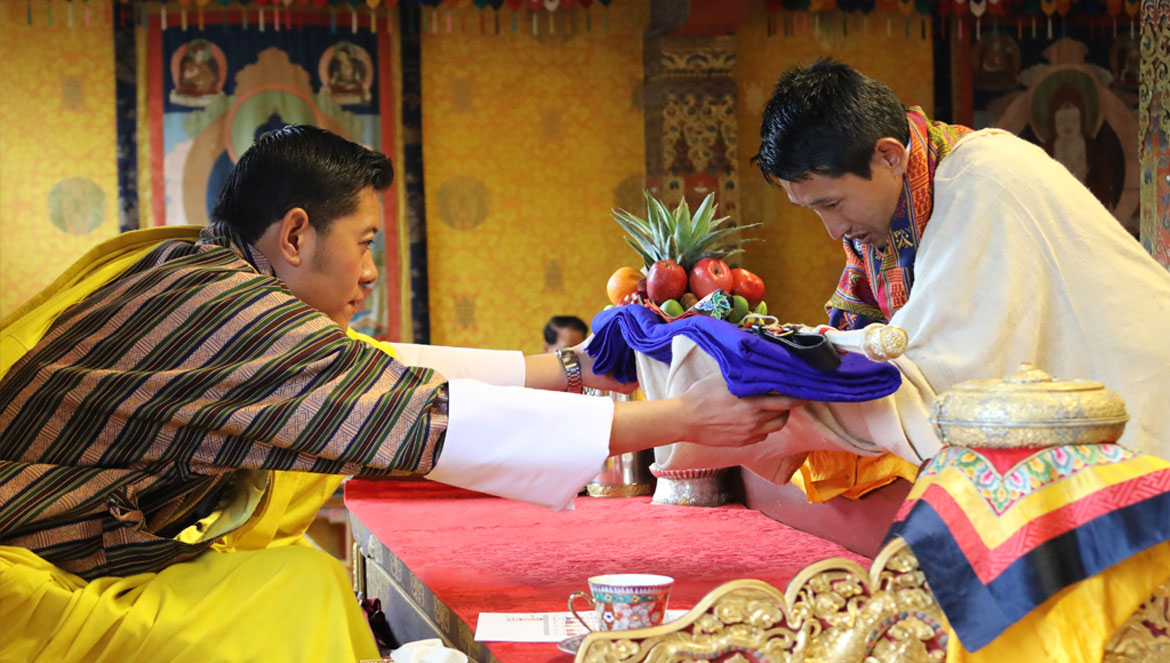 Awards
2018 – Awarded Blue Scarf by His Majesty the King on having been elected as a Member of National Council from Gasa Dzongkhag.
2014 – Recipient of South Asia Foundation Scholarship to pursue a Master of Engineering Degree at the University of Moratuwa in Sri Lanka (View here).
2008 – Recipient of His Majesty the King's Scholarship (Trongsa Penlop Scholarship) to pursue a Bachelor of Engineering Degree at Rangsit University in Thailand (View here).
---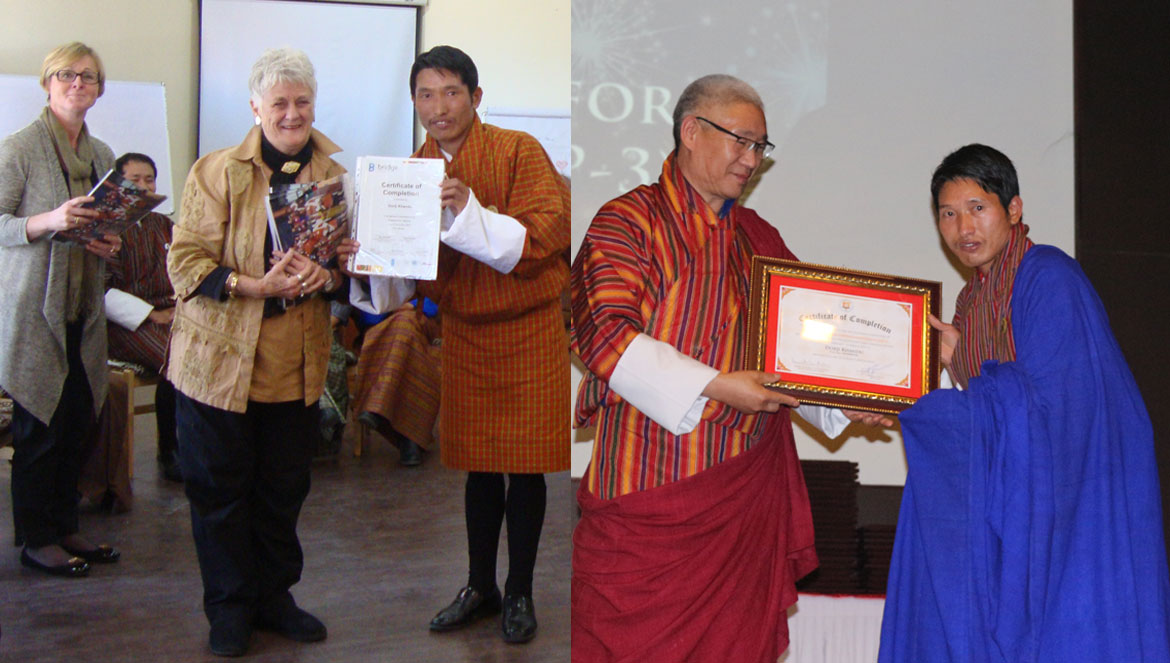 Certificates
| | | |
| --- | --- | --- |
| Year | Descriptions | Institute/Place |
| 2021 | Diploma in Global Governance | IBM-Institute, Germany |
| 2021 | Comparative Law-making | INTER PARES |
| 2021 | Parliamentary Oversight | INTER PARES |
| 2020 | Advanced Media Literacy Workshop for Parliamentarians | Bhutan Media Foundation |
| 2020 | Non-Western Public Administration (NWPA) | Tallinn University of Technology |
| 2020 | Induction for First Time Parliamentarians | UNDP |
| 2019 | Advanced Media Literacy Training | Bhutan Media Foundation |
| 2019 | Social Policy Course | The Royal University of Bhutan |
| 2019 | Completion of Leadership Program for Parliamentarians (LPP-3) | Royal Institute for Governance and Strategic Studies |
| 2019 | Completion of the High Impact Presentations | Dale Carnegie & Associates Inc. Singapore |
| 2018 | Certificate of Election (Member of National Council of Bhutan) | Election Commission of Bhutan |
| 2014 | Workshop on Research Methodology | University of Moratuwa, Sri Lanka |
| 2014 | South Asia Foundation Scholarship Certificate | South Asia Foundation |
| 2012 | Recognition of Completion of the Political Party Module | Election Commission of Bhutan |
| 2012 | Recognition of Contribution As a member of the Editorial Team of Trongsa Penlop Scholarships. Annual Alumni Magazine | Rangsit University, Thailand |
| 2012 | Recognition for Dedication and Contribution to Trongsa Penlop Scholarship As Representative of 1st Batch for the year 2010-2012 | Rangsit University, Thailand |
| 2012 | Recognition of an Outstanding Achievement as a Student Coordinator of Bhutanese Student's Group for 4 years | College of Engineering, Rangsit University, Thailand |
| 2011 | Recognition of Outstanding Accomplishments and Contributions as an Intern | Pradubwong Co., Ltd. Thailand |
| 2008 | Trongsa Penlop Scholarship Certificate | Rangsit University, Thailand |
| 2008 | Basic Computer Operation | Kuenphen Institute of Technology |
| 2007 | Best Article Contributor of the Year | Bhutan Observer |
| 2007 | Nationwide Dzongkha essay writing competition | Dzongkha Development Commission |
| 2006 | Best speaker in the debate, extempore speech in both English & Dzongkha | Punakha Higher Secondary School |
| 2002 | Painting Competition on the theme "Beauty of Himalayas" | Embassy of India in Bhutan |
| 2001 | Recognition of the Best Performer in the Dzongkha subject | Gasa Lower Secondary School |
| 2001 | Training on Driglam Namzha (Traditional Etiquette) Course | Gasa Dzongkhag |
| 2000 | Best Academic Performer of the Year | Gasa Lower Secondary School |